I stumbled across a fish spa while spending a day with my family at Tagaytay Picnic Grove. I admit that I'm a sucker for spas and after walking the entire day, getting a foot spa is really tempting. But the idea of my feet becoming fish food during the fish spa treatment didn't sound that appealing. After much coaxing from my brother, I finally decided to give this a try.
All about Fish Spa Tagaytay
Opened just last December 2010, All about Fish Spa Tagaytay is a fish spa owned and managed by Cristina Amora. I was very fortunate to have met Cristina when I dropped by to try out their service. Cristina was very friendly and sweet, taking time to first explain to me the entire logic about the fish spa treatment.
The main star of the fish spa treatment is a kind of fresh water fish called Garra rufa. More commonly called as doctor fish, it's commonly found in the river basins in Syria, Turkey, Iraq and Iran where they've had fish spas for centuries to treat people suffering from psoriasis.
Today, fish spas are found in many countries in Asia and Europe and are used as a unique way to get rid of dead skin cells and treat other kinds of skin conditions like eczema. Most of them use this as one of their foot spa treatments, but there are some where you are submerged in the water filled with doctor fish to give you a spa treatment in different parts of your body.
The Fish Spa Treatment
Arlene, one of the staff at All about Fish Tagaytay Spa, guided me through the entire  foot spa process. After washing your feet, ankles and legs with soap and water, You dip your feet in a series of tanks filled with doctor fish on different time intervals.
The moment I dipped my feet into the first tank, the fish made their way to my feet, just like iron shavings would to a magnet. It was a bit ticklish. I was fascinated on how they focused on my heels and under the soles of my feet, my problem spots.
The fish here were a bit bigger on the second tank. Just like in the first tank, they began to nibble on my ankles and the soles of my feet. A few made their way onto my toes and even on certain parts of my legs. The poking sensation was very soothing.
Just when I was beginning to enjoy my fish spa, Arlene told me that it was time to switch to the third tank. The size of the fish made my mouth drop. Now I'm really fish food, I thought. I gingerly made my way to the tank and dipped my feet in. Compared to the first two tanks, I felt the teeth of these fish as they nibbled onto my legs, ankles and toes. Nevertheless, it was surprisingly relaxing.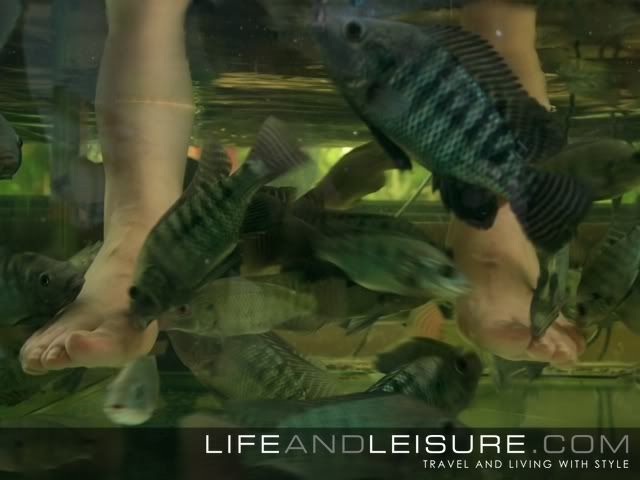 After about 20 minutes, Arlene asked me to wash my legs and feet again. I immediately felt the difference. My feet, ankles, and lower leg areas were much smoother and softer than when I started the fish spa treatment. I was very pleased.
The fish spa treatment ends with a relaxing foot massage. Arlene escorted me to their massage area, which is actually a small nook in the corner, where she treated my feet and legs with a soothing massage.
Gold Fish Catching Game at the Fish Spa
In addition to offering their unique fish spa treatment, All about Fish Tagaytay Spa has a gold fish catching game where kids can enjoy catching as many gold fish as they can. Anything that they catch, they take home as their prize.
Prices at All about Fish Spa Tagaytay
A 30-minute fish spa treatment in All about Fish cost P199 ($4.70). The gold fish catching game cost P50 ($1.18), which includes three nets. Fish food can also be bought for the gold fish here at P10 ($0.24) per bag.
The fish spa is a unique experience where you can get a cheap foot spa. Usually, I would usually spend about P600 ($14.18) for a foot spa in Manila so this is a great deal.  Make sure to include having a fish spa treatment while in Tagaytay. You won't regret it.
The All about Fish Spa Tagaytay is located at the back of the Tagaytay Picnic Grove Administration Building. You can call or text Cristina to make an appointment at (0906) 210-7450 or (0929) 151-5420.
Have you tried All about Fish Spa Tagaytay? Share your experiences.
Refreshing Fish Spa Experience at Tagaytay Picnic Grove

,